Rise In Credit Card Fraud Expected During World Cup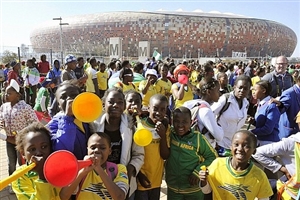 The start of the World Cup brought hundreds of thousands of fans to South Africa who are expected to brings in millions of dollars in revenue for the country. However, this is a prime time for criminals to partake in credit card fraud.

Criminals are expected to steal a large amount of credit card numbers during this event, electronic fraud prevention experts ValidSoft said. This could result in a massive amount of people seeking debt relief.

Currently, credit card fraud protection uses customers' spending patterns to determine if activity is suspicious. ValidSoft CEO Pat Carroll said "this approach has ... limitations [for those traveling to the World Cup]. It may take several of these doubtful purchases to trigger the fraud alert. By then, criminals may have gotten away with thousands of dollars of goods."

Credit card customers are encouraged to tell their banks about their travels. In addition, ValidSoft is implementing a program that links the legitimacy of a transaction to the credit card's proximity of the person's cell phone - allowing them make purchases while traveling, but also preventing fraudulent activity.

If a consumer suspects fraudulent purchases on their credit card account, they should contact their provider immediately.



Timely articles written by the Editors at DRC