Debit Card Use High Even During Economic Downturn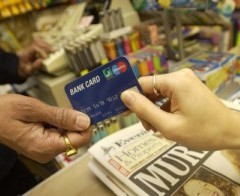 A recent study found that even during year two of the U.S.'s economic downturn that Americans continue to use their debit cards at "robust" levels.

Pulse's 2010 Debit Issuer Study found that even though there is substantial debit card use, it's mostly for small-ticket transitions, which could indicate that consumers are trying to avoid putting themselves in a situation where they need to seek debt relief. The financial services company also believes it could be pointing toward a trend of people preferring to not make purchases with cash.

Pulse executive vice president Cindy Ballard said that "as consumers scaled back spending during the recession, they embraced a pay-as-you-go approach and are keeping their debit card [on] top of [their] wallet."

Between 2008 and 2009, the use of debit cards grew by 10 percent, according to the survey. Nearly 60 percent of those purchases were for transactions that cost $20 or less.

When using debit cards, consumers should make sure they have funds available for the purchase. New banking rules state that unless customers agree to an overdraft fee, their purchase will be denied if there isn't sufficient money in the account.



Timely articles written by the Editors at DRC

New government regulations in place for consumers in need of debt relief for credit cards and other unsecured debts.