Military Members Carry Large Debt, Report Shows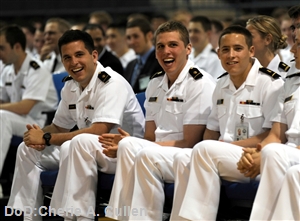 The men and women who serve in the military may carry more debt than the average civilian, a new report indicates. According to data from the Financial Industry Regulatory Authority, 82 percent of military members carry at least $10,000 in credit card debt.

In addition to credit card debt, 21 percent of survey respondents said they have resorted to costly practices, such as payday lending or auto title loans, within a five-year period to pay for expenses. One in four study participants also admitted to overdrawing their checking accounts at some point. The rise in military debt has been largely attributed to "military readiness," including the frequency of deployment and relocations among members.

Holly Petraeus, wife of General David Petraeus, told The Washington Post the lifestyle of military members can be costly and financially burdensome, resulting in more debt.

"Being in the military may be a secure job, but for many the paycheck is small," Holly Petraeus wrote to the Post. "It's not hard to end up with 'more month than money,' especially if you are young and have little experience of managing finances. And the military does have special challenges with frequent moves."

A number of debt relief programs have been created recently to help military members overcome financial burdens, such as mortgage debt.




Timely articles written by the Editors at DRC