Getting Debt Relief Without a Loan
Looking for a loan to help cope with debts? Many people faced with high interest credit cards often consider taking out a loan to get "relief". In many cases, this may be a poor decision, so think twice before you take on new debt to payoff existing debt! There are other proven debt relief options:
For consumers whose unsecured debts, like credit cards, store cards, medical bills, etc. have gotten out of control, there are often other options available to get relief from debts, without a loan.
See how debt relief can help you. Answer a few, simple questions to get a free debt relief estimate and savings analysis - at no cost to you.
Before we review the most common types of debt relief loans, here are a few things to consider before taking out a personal loan:
Get a Free Debt Relief Savings Estimate
These loans all too often include very high interest rates
They could if secured by collateral put your home or other assets at risk if you fall behind on loan payments.
Some loans have special penalties which include interest rate increases to very high levels should your payments be late.
Clearly, taking on additional debt to attack existing debt is something that should be avoided except in situations where you can truly reduce your interest rate and will have the income and discipline to remain faithful in your repayment of debt.
Personal Loan
A personal loan, also known as a signature loan,is often made in order to consolidate debts, or used for other personal uses.
Personal loans can also be used to establish consumer credit. Normally, personal loans are unsecured, not backed by tangible collateral or assets, and are based on the financial reputation and integrity of the borrower.
Signature Loan
A signature loan is a loan that is not secured by collateral. In short it's a personal loan that's approved primarily upon the borrower's credit score or credit rating, i.e. the past credit history of the applicant.
Unsecured Loan
An unsecured loan, also referred to as a signature loan, is based only upon the debtor's good name and trust that the debtor will repay the note as promised.
It's not backed by collateral such as a home, car, or any other asset that can be forfeited in the event that the borrower defaults on the terms of the loan.
Debt Consolidation Loan
A debt consolidation loan is a loan that typically combines or "consolidates" several higher interest rate loans, or debts, into one lower interest rate loan.
While debt consolidation loans are an accepted debt relief option, remember these loans do not wash away debts per se. Instead, they simply shift debts around. Debts will still have to be repaid.
In addition a debt consolidation loan may be stretched out over a longer period of time, making it easier to live with the monthly payments.
Regardless of the benefits that consolidation loans offer, you need to be careful before moving forward with loans to payoff existing debt.
Why?
Because statistics show that many people who use debt consolidation loans to payoff credit cards and other unsecured debts end up quite often falling back into the debt trap again.
When this occurs the debtor now has the debt consolidation loan to payoff on top of new credit card debt!
Explore your debt relief options. Request a free debt relief estimate and savings analysis, at no obligation to you.
Home Equity Loan
A home equity loan is a loan based on the total amount of equity you have in your home. This loan may be a viable debt relief option because it could allow you to use the equity you have in your home to payoff high interest rate debts.
It's fairly easy to determine the equity that you have in your home. Here's how:
Take the current market value of your home
Subtract the outstanding balance due, or principle, you have remaining on your home.
The amount remaining, roughly speaking is the amount of equity you have in your home
Be careful about using a home equity loan to consolidate and pay off higher interest debts such as credit cards, retail charge cards, and other unsecured debts.
If you fall behind on payments, you could by trading unsecured debt for secured debt be placing your home at risk.
Lines of Credit or Credit Lines
A line of credit is an amount of money that you may borrow as needed. In this way it provides a convenient source of available funds that can provide peace of mind.
You're only charged interest on the amount of funds that you choose to draw from your approved line of credit amount.
In the case of a home equity line of credit you borrow money based upon the amount of accumulated equity you have built up in your home.
Once your line of credit is approved, you may convert higher interest credit card debt into lower interest rate debt. However, keep in mind, as with other loans that are used to consolidate debt, lines of credit don't eliminate debt, they just transfer debt.
Bad Credit Loans
Bad credit loans are so named because the person who takes out the loan typically has a history of:
loan default
slow payments
late payments
partial payments
exceessive debt relative to income
Additionally, others with little or no credit history may also be categorized as a "bad credit loan" even though they've not missed payments, etc.
Because of either a history of slow/late payments, etc. or though a lack of credit history lenders, banks, and other financial institutions recognize they're at a higher risk of losing the money being loaned.
As a result, these loans often may come at very high interest rates that can cause a borrower's debt to go from bad to worse.
Before considering a bad credit loan other debt relief options should be considered, including:
debt management plans through credit counseling
debt settlement plans
debt negotiation
debt mediation
Poor Credit Loans
Poor credit loans, commonly called Bad Credit Loans, are so named because the consumer's credit history commonly shows things like:
one or more failures to pay back prior loans
slow repayment of loans
a lack of history in taking out and repaying loans
Because of this, the banks or financial institution granting the loan believe the debtor is more likely to default--or be slow paying--on this new loan, too. Thus, these loans are typically called, "Poor Credit Loans".
As a result the interest rates charged on these loans are normally quite high. For debtors who have a poor credit score, loans with bad credit often lead to a debt treadmill that becomes more and more difficult to escape.
Take Advantage of Debt Relief Options
Before you or someone you know pursues a poor credit loan, you really should explore other debt relief options! The Debt Relief Center can help connect you to debt relief providers so you can choose from several different debt relief alternatives including debt management through credit counseling and debt settlement. One of these alternatives may be right for you and allow you to regain financial freedom without a loan.
Regardless of the debt relief option you may choose, make sure before enrolling with a debt relief company that you clearly understand the actual savings you could experience with debt relief, the time it will likely take for you to realize those savings, and the impact that a particular debt relief program could have on your personal credit.
To find the debt relief option that's meets your needs, take a moment to list the type of debt and the amount of debt you have, and the Debt Relief Center will connect you to debt relief providers who may have a debt relief option to meet your needs.
Request your free debt relief analysis and savings estimate in minutes. Start by answering a few, simple questions here.
All About Your Debt Relief Options
Debt consolidation is a debt relief option allowing individuals to combine or "consolidate" multiple higher-interest credit card, or other unsecured debts (such as medical bills, store or gas cards) into a single, more affordable payment each month. Typically, debt consolidation programs are coordinated by debt counselors who customize a "debt management plan" providing consumers with a proven and predictable path to get out of debt.
Pros
Provides proven, predictable program to become debt free
Saves money, reduces interest, waives late fees/penalties
Allows you to pay off debts at a pace that fits your budget
Manages multiple debts via single more affordable payment
Puts you back in control of finances to help reduce stress
Cons
Requires discipline to make single monthly payment
If you default, you revert to original creditor agreement
Creditors not required to accept debt relief proposals
Often takes 3-5 years, or more, to become debt free
While not necessarily harmful to your credit score, will be "noted" on your report
Summary: What to Expect
If you have multiple credit cards and other unsecured debts like medical bills, doctor bills, store cards, unsecured personal loans, and more – a debt consolidation program coordinated through a debt counselor may be the ideal debt relief option to help you live within a set budget, reduce debts, and get on a path to become debt-free.
How do debt consolidation programs, or debt management plans work?
Typically, debt consolidation programs are coordinated by debt relief specialists, or debt counselors, who conduct brief interviews with you to get details on your credit cards and other debts, as well as how much you can realistically afford to pay each month to get out of debt.
Based on this information, your debt specialist will then customize a "debt management plan" for you. Once you approve the plan, letters will be sent on your behalf to each of your creditors requesting the benefits of debt relief – such as lower interest rates, a waiving of late fees and penalties, and generally more favorable repayment terms. Those creditors who accept the proposals are then added to the debt consolidation or debt management program. For those that do not accept debt relief proposals, you are still obligated to live up to the original terms of your cardholder agreement.
It's important to understand that, just as no two debt situations are exactly alike, no single debt solution is right for everyone. Your debt specialist can provide more details regarding debt consolidation or debt management as part of your free debt relief analysis and savings estimate.
Debt settlement is a debt relief option that has become increasingly popular among people who need relief from high-balance credit cards (typically $20,000 to $125,000 or more). Through debt settlement, debt specialists negotiate with creditors on your behalf – with the goal of "settling" your credit card debt for substantially less than you currently owe.
Pros
By settling debt, you can save a substantial amount of money
Can help you settle credit cards in as little as 12-36 months
Allows you to make low monthly payments you can afford
Settles debt and provides alternative to bankruptcy
While negative to credit, not as severe or long-lasting as bankruptcy
Unless "attorney-based" fees only paid after successful settlement
Cons
Typically only benefits those with high-balance credit cards
Amount of money saved through debt settlement subject to taxes
Requires discipline to "set aside" money for successful settlement
Creditors may threaten, or take, legal action to collect debt
Negative impact on credit due to default on credit agreements
Creditors may not agree to accept your debt settlement offer
Summary: What to Expect
If you have one or more high-balance credit cards and are going through financial hardship – credit card companies may agree to "settle" your credit card debt for substantially less than you currently owe.
How does debt settlement work? A debt relief specialist will review your current credit card debts and the amount of money you can afford to set aside each month to accumulate a "settlement fund". Debt specialists will then negotiate with credit card companies on your behalf with the goal of settling debt for substantially less than you currently owe.
How much debt settlement could potentially save depends largely on the amount of credit card debt involved, your current financial circumstances – and the settlement policies of credit card companies.
It's important to understand that, just as no two debt situations are exactly alike, no single debt solution is right for everyone. Your debt specialist can provide more details regarding debt settlement or debt negotiation as part of your free debt relief analysis and savings estimate.
There are many well-respected self-help credit and debt experts who provide a wealth of valuable advice on the wise use of credit and how to become debt free – experts such as Dave Ramsey, Suzie Orman, Clark Howard, and many others. But regardless of the system you follow – the first step in a successful do-it-yourself debt relief program is to do everything possible to live within your means – avoiding unnecessary "impulse" purchases that cause debts to spiral out-of-control. By creating and maintaining a realistic budget, you will avoid taking on additional debt.
In addition, you can take steps on your own to reduce existing debt by contacting creditors directly to request more favorable interest rates or terms, or offer to settle debt for less than the full amount owed.
The bottom line: If you have high-interest credit cards and other debts and are struggling to make ends meet – you are in need of debt relief. Whether you take advantage of a debt relief program such as debt consolidation or debt settlement, or commit yourself to take control of your finances and negotiate with creditors on your own – take positive steps today to get on the path to become debt-free.
7 Important Debt Relief Tips
Create a realistic spending plan – a personal or family budget
Set aside money each month to pay down your existing debt
Stick with your plan. Avoid unnecessary "impulse" purchases
Contact your creditors requesting lower interest rates or to settle debt
Pay down debts one-by-one, starting with highest-interest debt
Don't use credit cards! Use a debit card to stay on track
Avoid taking out additional loans that add to your debt load
Bankruptcy is generally considered to be the debt relief option of last resort. There are several types of bankruptcy: Chapter 7 (straight bankruptcy or liquidation), Chapter 13 (reorganization of debts), and Chapter 11 (debt reorganization normally used by a business or partnership). While a successful bankruptcy can provide a fresh financial start – individuals or businesses should carefully consider bankruptcy before proceeding because of its long-term financial implications.
Pros
Debtors given a fresh start – a new financial lease on life
Upon filing Chapter 7 or 13, collection efforts must stop
Debts discharged. Creditors forgive most unsecured debts
Your home, auto, and other essentials may be protected
Wages you earn after bankruptcy go to you, not creditors
From bankruptcy filing to relief takes about 3-6 months
Cons
Bankruptcy stays on your credit report up to 10 years
Makes it difficult to obtain credit for home, auto, and more
Requires forfeiture of your existing credit cards
You lose property not exempt from sale by trustee
Doesn't discharge student loans, tax debt, alimony
Debt option of last resort that can be embarrassing
Overview
While bankruptcy is a debt relief option that has been able to provide a fresh start for many individuals, families, and businesses – it is a serious decision that should be carefully considered with the assistance of a financial advisor or attorney who can help determine if bankruptcy is the proper course of action.
Prior to 2005, those filing bankruptcy could choose the type of bankruptcy they preferred – and most elected to file Chapter 7 straight bankruptcy (liquidation) over Chapter 13 (structured repayment). However, rules enacted in 2005 now requires those filing Chapter 7 to pass a "means test" – to qualify, they must earn equal to or less than the average monthly income for a family of their size in their state.
In addition, before you can file for Chapter 7 or Chapter 13 bankruptcy, you are now required to complete credit counseling with an agency that has been approved by the United States Trustee's office.
While bankruptcy plays a vital role to help rescue individuals and businesses, it is important to recognize that it's not the only debt relief option. A debt specialist can provide more details on debt relief alternatives to bankruptcy as part of your free debt relief analysis and savings estimate.
Call the Free
Credit Card
Debt Relief
Helpline!
HIGH DEBT
($10,000 - $125,000+)
(877) 927-5218
LOW DEBT
($5,000 - $9,999)
(877) 927-2907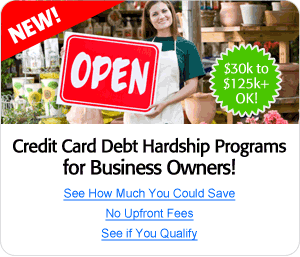 Live Debt Relief Activity
$29,500 Savings Estimate requested

12 seconds ago in La Puente, CA

$86,000 Savings Estimate requested

11 seconds ago in York, PA

$44,000 Savings Estimate requested

6 seconds ago in Broken Arrow, OK

$7,500 Savings Estimate requested

20 seconds ago in Canton, CT

$7,500 Savings Estimate requested

1 minute ago in Poplarville, MS

$20,000 Savings Estimate requested

2 minutes ago in New Bern, NC

$20,000 Savings Estimate requested

1 minute ago in Lexington, KY

$7,500 Savings Estimate requested

3 minutes ago in Merced, CA