A Note from the Editor
Walter E. Burch
Welcome to DebtReliefCenter.org.
We hope this website provides you with valuable information to help you better understand your debt relief options.
If you're like many people in debt, you may not be aware of the debt relief options available to you. Debt relief, depending on your financial situation, could help to reduce your interest rates, lower your payments, or even settle your debts for substantially less than you owe.
While exploring debt relief options such as credit counseling, debt consolidation, or debt settlement can sometimes be stressful – many people find it reassuring to know that debt relief can not only help save money, but also provide debt relief options that have helped many people regain control of finances and avoid bankruptcy.
Please be advised that, while debt relief programs can help to reduce debts and potentially save a substantial amount of money, they do not make debts magically go away. Consumers in a credit counseling program need the basic discipline to set aside funds each month to live up to the terms of their debt management plan and consumers in a debt settlement program must be able to set aside or accumulate the necessary funds to make a reasonable settlement offer to credit card companies.
The debt relief center does not provide direct debt relief services but serves to connect consumers, upon request, to debt relief companies that offer a free debt relief evaluation and savings estimate at no obligation. Individual results and savings will vary in debt relief programs depending largely on your amount of debt, your individual creditor's debt relief policies, and your ability to complete your program.
Finally, prior to enrolling in any debt relief program, we recommend you clearly understand the money-saving benefits of debt relief, how debt relief programs could affect your credit, as well as any potential legal and tax implications of debt relief programs.
Here's to your financial freedom!
Walter E. Burch
Editor-in-Chief
DebtReliefCenter.org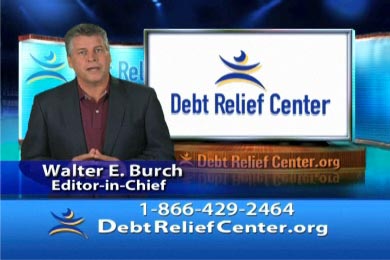 No suitable video player available.
How to get started...

New government regulations in place for consumers in need of debt relief for credit cards and other unsecured debts.